An NFT Collection honouring the Queen of Memes on Her Majesty's Platinum Jubilee
On June 2nd, 2022, The Queen's Platinum Jubilee will be honoured by 52 established and emerging artists around the world with a fine art NFT collection that celebrates her 70 year reign over popular culture.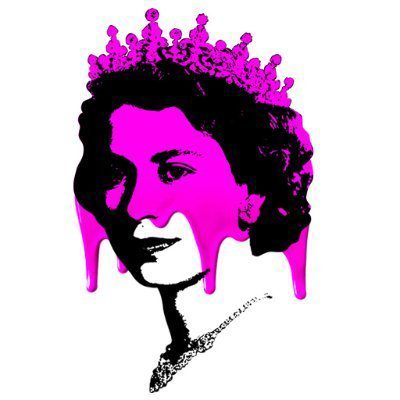 The Queen is arguably the most portrayed person in history. From portraits to pop, she's inspired the likes of Andy Warhol, The Sex Pistols, and beyond. The monarch's enduring and consistent image has been described as vanilla but it's what has allowed her to become the lens through which we can view our ever-changing culture. The ultimate meme, if you will.
Now, as we establish our foothold in the 21st century, a new technology has emerged with some interesting parallels to Her Majesty's brand. We're referencing the blockchain, which soared into mainstream awareness in early 2020, sparking a burgeoning revolution for creators to seize the means of artistic production and take ownership of their careers.
We've seen artists like Beeple and XCOPY rise to fame and lead the way for others to ape into the exciting and largely unexplored frontier. This movement has transformed the blockchain—a technology as immutable as the Queen's image—into a similar canvas for what is happening in the world around us. What was once a simple public ledger has become an ideal medium for the artistic expression of our world today. A programmed palace for the Queen of Memes, where her pop culture legacy can reign forever.
The Art Save The Queen NFT collection accompanies a physical show curated by the Ad Lib Gallery in London, which will honour Her Majesty's 70 remarkable years on the throne, calling on emerging and established artists to craft their own unique representation of The Queen. Mr Brainwash, Alison Jackson, James Mylne, Darren Coffield, Elmo Hood, Pure Evil and Scarlett Raven are just some of the artists whose work will be featured in the physical exhibition.
A select number of the artists mentioned above will be transforming their work into the NFT collection featuring 2022 unique portrayals of The Queen. The collection will consist of 1/1 artworks by Nasser Azam, Michal Cole, Karen Bystedt, Catman, James Mylne, Ernesto Romano, Paul Don Smith, Riu Knox, Matt Mackman, Louisa Tebbutt, Jo Holdsworth, Sena Shah, Ben Riley, James Vaulkhard, Janek Janikowski, and more. And in many cases will serve as a stepping stone for these artists to enter the Non-Fungible space.
To learn more about the collection leading up to launch, you can follow the page on Twitter and Instagram and visit www.artsavethequeen.com 
Follow us on Social Media