Another utility NFT project is launching this Friday (7/16) at 5:30 PM EST.  This time it's 8,500 Goblins launching on the blockchain at a fair .03 ETH each.  The story behind the goblins revolves around the idea of sacrificing the goblins to the pit of everlasting fire.  We were lucky enough to sit down with the leader of the project Theo and learn more about the project.
As night falls over the mountainous terrain of Ironstone, the distant sound of Goblins echoes through the forest. These notoriously greedy creatures have earned the name Goblin Goons in the region for their violent raids on villages and thieving of travelers' belongings; which they proudly wear to show their status.
Goblin Goons Roadmap
10% sold: 8 Owners are airdropped an additional Goblin. Discord giveaways are drawn and airdropped as well.
25% sold: 5 ETH is added to the Gold Sack (community wallet). Discord channel is opened for holders to suggest how the funds should be spent. 8 Owners are airdropped an additional Goblin.
50% sold:   5 ETH is added to the Gold Sack. 8 Owners are airdropped an additional Goblin.
75% sold:   10 ETH is added to the Gold Sack. The Goblin Goons Liquidity Pool is initiated.
100% sold: The Pit of Everlasting Fire will be released in 2 weeks. Owners of gold coins will be able to propose development ideas.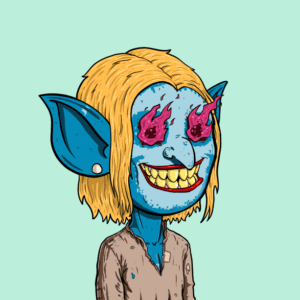 How Theo came up with the Idea:
I've been running a Discord server for 1000+ NFT investors since March which aims to teach collectors about what makes projects valuable and share worthy investments. I have watched the avatar project space develop since BAYC and seen what works and what doesn't. When developing Goblin Goons, I've tried to draw on all my knowledge of the NFT market and have added utility aspects that aim to add value for owners.
What Makes the Goblin Goons NFTs Unique:
The goal of Goblin Goons is to have it run like a DAO, where owners can vote on community matters and decide which direction the project takes. Each Goblin comes with 1-3 gold coins which act as governance tokens for owners. Each coin equals one vote so owners who hold more Goblins will have more power when voting on community decisions. On the website, owners will be able to view their gold coins balance and vote on decisions and proposals. 
How big is the team and what are their roles:
The team is made up of 4 people. Myself, who is the creator, Cobble, who is the developer who has built a tailored smart contract for our utility and governance, and Flegz and Chubusan who are the two artists. 
Price:
0.03 ETH each
Mint size:
8500 
2 weeks after minting has finished, the Pit of Everlasting Fire will be opened. These mechanics will give owners the choice to sacrifice their Goblin Goons in return for Ghost Goblins at a rate of N-1. For example, sacrificing 3 Goblin Goons will yield 2 Ghost Goblins. Ghost Goblins feature completely new off-chain attributes and rarities with the total supply being unknown as burning Goblin Goons is the only way to mint them. This deflationary mechanic will aim to decrease the total supply over time and act as a "reroll" mechanic for owners. Owners who mint Ghost Goblins will also receive an additional gold coin than the amount they sacrificed (N+1). This mechanic acts to further incentivize Owners who decrease the supply by giving them more tokens.
Links:
discord.gg/goblingoons
twitter.com/goblingoons
www.goblingoons.com
Follow us on Social Media