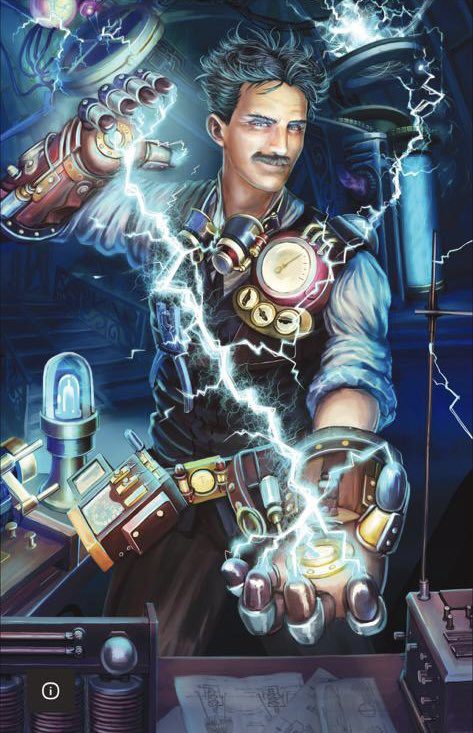 Upcoming
NFT
Strategy Card Game! Collect, Trade, and Fight Against Other Players!
How did you come up with the ideas? 
We came up with the idea after avidly playing Hearthstone and enjoying the game and thinking to ourselves it would be quite interesting to have a similar type of playstyle with Heroes and Minions (attack cards) but with realistic characters such as Nikola Tesla or Henry Ford. This would not only provide an educational aspect of the game however it would still allow the game to be fun and playful. 
What Makes this project unique? 
This project is an entity project that is incorporated into a historical figure game. What makes this project unique is the game is very similar to Hearthstone however instead of playing with fictional characters members are able to play with historical figures that helped advance the world. These figures can be like Martin Luther King Jr or Nikola Tesla. 
How Big is the team and what are their roles? 
The team is constantly expanding as we are trying to find the best employees for our game however as of right now we have the two founders, we have the game development team, we have the marketing team and we are still searching for an adequate discord moderating team. Likewise, we have a couple options for our main team and we are still weighing those out. 
What is the price? 
There are three tiers of pricing, 300$, 600$, 900$ 
Why is that price fair? 
This pricing is fair as each tier offers various assets for the members that buy, for example the $300 tier provides the hero card, as well as a PNG or downloadable file for that art and a unique wallpaper. Whereas the $600 tier provides everything from the $300 tier plus a 5% discount on a next mint as well as a booster pack are dropped with 5 attack cards. The card for the $600 tier will also come with sound bites. The $900 tier card will be fully animated with sound. This tier we'll get everything from the first two tiers as well as an extra booster pack and a 10% discount. They also get voting rights as well as their name put on the end credits for the game. All three tiers get early access to the game 
What is the Mint Size? 
4k NFTS. The $900 tier and the $600 two year we'll both be one specific card however differing from each other whereas the $300 here will be compiled of 4-6 randomized cards where the buyer gets one out of the six cards through a blind box drop.
Are there any mechanics we should know about? 
We are constantly trying to implement the most unique mechanics such as our own token into the game to make it play to earn or even the ability for members to rent out their heroes, however nothing is completely certain yet as we want to take the road map step-by-step and not over promise for our members thus this is in our pipeline but will not be fully disclosed as of now. 
Links to discord, social, etc. 
https://twitter.com/EpicBattlesTM 
Follow us on Social Media