Where are you from?
Having roots in both Greek Islands and Turkish cost side cultures, I like to define where I am from as more of an Agean cost side girl, I have lived in Vienna and studied post-conceptual art in the Academy of Fine Arts Vienna followed by giving my thesis on Stage, Set, Costume Design and Puppetry at İstanbul. I'm a traveler in the soul so no matter where I am from I prefer to define myself as a citizen of the globe.
Can you tell us about your background and what lead you down the path to becoming an artist and ultimately experimenting with NFTs?
I'm a wanderer by nature, I love researching, reading, and understanding being curious is coded in my DNA…I started my journey as a wanna-be artist when I was only 15, I got myself from a very strict school to fine arts to learn more about what I am already loving. Simply this thrive got me where I am now!
With that being said you perhaps can guess that I experimented with many things during & after finishing my studies in fine arts. Attending Prague Quadrinale as a puppet master, experimenting art with many elements such as metal work to woodcraft to different drawing techniques but the most important part of my understanding perhaps starts with being a stage/set designer for big productions to small ones such as theaters, those experiences shaped my understanding of the art I make.
The first time I heard about NFTs was when we were shooting a Hollywood spy movie during that while a fellow crew member mentioned NFTs to me since I was drawing the cartoons of the crew and showing them my artworks. Months later I minted what I was already drawing and with that, I felt like I opened a new door in my artistic journey, pretty excited since now I was sharing my works on platforms and getting incredible support and attention!
When did you mint your first NFT? What platform did you choose and why?
1st of August 2022' is a day to be remembered for me since it was my first mint, feels like years now so…
I've chosen OpenSea to mint it, by that time there was not as much information nowadays on the internet, I searched for a platform that would be easy for me to understand the interface and OS was the first one that showed up on my path and I minted there which later, lead my artwork to be featured on the platform, it was an amazing experience!
Can you tell us one thing you cannot live without? (and why)
My emotions. Simply I cannot give up on my soul and heart, they thrive on me and the art I make. I don't know any other way in order to survive. My emotions are a big part of my personality like everyone but this came to a point where I started to speak by them, it's the reflection of my soul and heart like I mentioned, I am just a wanderer just like archeology -as a metaphor- I may say, re-discovering the way of speaking and sharing, they way I draw and use my element of lines, shapes and colors are my letters, and the art I craft has become my language some sort of.
Who is your favorite artist(s) (Non NFT)? What about their style resonates with you
I'm a multidisciplinary artist that inspires by different understandings of art so my list would go like this;
-Pina Bausch; She is a dancer & choreographer, perhaps the main reason itself why I find life very much like dancing and use it as a concept in the way I compose my figures..where the dance meets the stage and theatre supported with minimalistic but strong scenic and costume designs.
-Marx Ernst; when I first started drawing my "woman figures" I was inspired by the grotesque concept itself and that was the time when I had incredible inspiration from Ernst's works especially after discovering his Ubu Roi painting inspired by the play of Alfred Jerry aka father of surrealist subversion.
-Alphonso Mucha; I need to highlight that I always used dramaturgical equalization on my compositions when it comes to my figures and side elements. It's a term that we use to analyze characters, scenes, etc. for dramas and plays and I see my figures as characters with their own journeys in a way, Mucha really inspired me with his almost perfect color charts and compositions with his woman characters drawn one by one, also he was the lead artists of Art Nouveau wave which also inspired me throughout my journey.
-Katsushika Hokusai: I simply fell for the power of minimalism in Katsushika's illustrations, which so plain yet powerful, the strong use of the negative space thrived me so much, especially on my earlier works which I found myself having those lines back lately, which is super exciting for me.
Who is your favourite NFT artist? What makes this artist unique?
It's very hard to just give a single name but I would go for tjo he really helped me push myself forward, and challenge myself, perhaps without even realizing, been a fan of his work for quite a long while now.
I find his artworks very unique in many ways, first his personality and how open to discussing art itself, and his amazing compositions which I found very hard to achieve, always have the perfect balance of chaos and order in each multidisciplinary work of his, the signature elements he uses and color charts with textures he achieved to make them a trademark. I am simply so happy to see his art in the NFT art space, pleasure seeing him mooning.
What made you pursue NFT art?
Easy; frens, support, sharing, respect, the charm of writing the history together.
What is the one NFT you wish you had purchased but missed out on
Oh gosh have no idea which one to start from, tjo, OW and ACK pieces, also a fan of BAYC and missed it right in front of my eyes same for Punks… there is just so much I am regretting not apen'in but nowadays I am collecting as much 1/1's possible.
If you could travel anywhere in the world where would you go? Why this location?
I've been traveling around Europe for a while and now I crave for Asian side of the world, perhaps I can generally say Thailand, Japan, and Korea since I've been very curious about their culture for a long time so those places are top on my list.
What are your other passions besides art? Why?
Travelling, dancing, surfing, diving, basically I like to try different stuff as much as possible, I love learning new skills and practicing them.
Do you make other forms of art?
I used to use many different materials such as wood, paper mache for sculpting, and metal with forging also did an international exhibition with an installation. Quite different forms of art and I love them.
Are you self taught or trained?
Self Taught digital wise but trained study wise I may say.
How did you come up with your specific style?
It all started with a costume design for Ubu Roi play's Mama Ubu character, for that specific costume I was inspired by a lot of artists including Ernt, Miro, Kavinsky, etc. Where I did a collage work of my inspirations to create and the design ended having my current elements, understanding of silhouettes and forms of my figures I kept drawing even after the project finished and after months I finally had a figure that I was happy with everything to build on top of that interpretation of the human form.
How has your style evolved over the years?
I have phases that evolved since the last Q of 2019 till today, where I like to call them three stages of the human persona; a Freudian way of describing is perhaps the best way for the observer to see my stages;
ID: 19' & 22' The compositions are created with silhouettes of the forms of Woman Figures. Very minimalistic, very contrasting, and has raw colors. Currently re-creating old understandings with much skilled and experienced way.
EGO: 21' The search era of my shapes.
SUPEREGO: 22' The trap of beauty.
What is coming in the near future?
New searches, new styles, expect much more experimental P1A drops, perhaps even editions!
If you could collaborate with one artist who would it be? (and why)
It would be OW or tjo, Other World's little dark baby-like demons also encouraged me to use some of my silhouette figures in my compositions. I would love to use them in both artists' artworks honestly could be experimental for me but of course, this comes from my admiration.
What was your greatest failure and what did you learn from that?
Marketing, definitely marketing myself. I failed so much during this one-year journey in the world of NFT, I learned to give much more value to myself in the first place, not the community nor what people think or the possible collectors, it's your journey, your art, own it. The rest will follow…!
What is your biggest piece sold
"Demons I Created Now Hunting Me" is my biggest sale dollar wise, I gave a shot to list it with RARE on Super Rare after a very heated bid war and it got sold in the same day to an amazing collector and a beautiful soul C4rdinal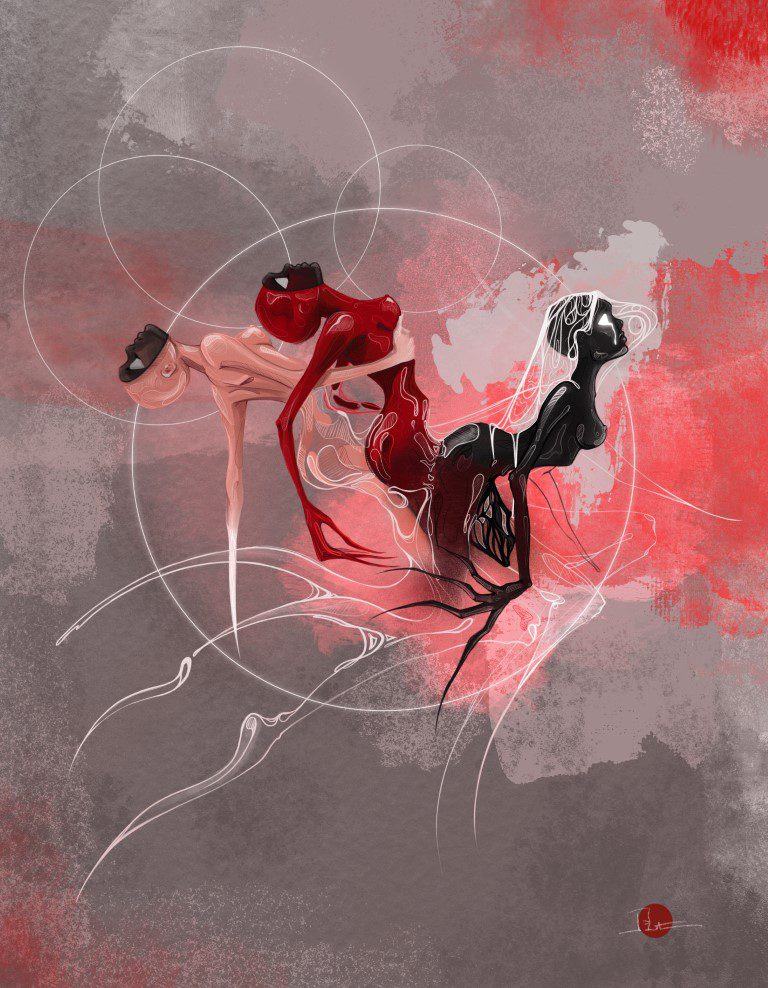 Do you have any upcoming drops?
YES! I've been working on an artwork I named "woman with hundred masks" I will be possibly minting it around the first week of September. Can't wait to share it!
Link to Website
Social links and NFT marketplace links
For my latest artworks: https://superrare.com/_pia_
Blog: https://medium.com/@artofpiaa/story-behind-the-woman-figures-7d0048efd354
Twitter: https://twitter.com/P1AbyPIA
IG: https://www.instagram.com/womanfigures/?hl=en
All my links: https://lynkfire.com/_PIA_
Follow us on Social Media