André Vieira Auer is an NFT artists that currently lives in Nuremberg, Germany but also spends a lot of time in Portugal.
Thank you for agreeing to the interview, please share a bit about your background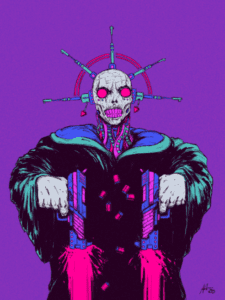 I started drawing in the kindergarden and never stopped since then. So I can't remember a defining moment where it  really clicked, art is in my life from the very beginning. Later on I studied design at the technical university in Nuremberg and took things more seriously. With all the talented students around me, I got super motivated and really wan ted to prove myself there. The comicbook Aquapunk was my bachelor thesis, I finished my studies in the year 2018  successfully. Since then I've been working on several projects, started selling artworks at Comic Cons and I'm currently  completing my cyberpunk graphic novel, that will hopefully be published later this year. 
What is one thing you cannot live without? 
Art, of course! I love developing my own stories, characters and settings. That is what drives me, it keeps me awake at  night. I can't live without it, impossible. 
Who is your favorite artist (Non NFT)? 
It's really tough to pick just one, because so many different artists influenced and inspired me through the years. Jim  Lee, Greg Capullo, Chien-An Chou, Death_Burger, Ryan Barry, just to name some of my favourites. But if I really have  to pick a single one, it would be Sean Gordon Murphy, probably the best comicbook artist of this decade and a huge  inspiration for me. I don't read his books, I study them. 
Who is your favorite NFT artist? 
Another difficult question, there are so many artists and new ones are joining the NFT community every day. I really  like Retric Dream, I love the vibe of his artworks and think they are technically extremly well done. Another great and  talented NFT artist is Lisa Odette, I would describe her art style as modern 3D magazine illustrations, something I've  never seen before. 
What made you pursue NFT art? 
As an artist it's crucial to always learn new techniques and burst your own bubble once in a while. After talking to other  NFT artists I really understood the concept behind this new technology and think it is a great opportunity for every  single creator out there. Usually I'm not an early adpoter, not every new thing makes life better, but NFTs are the future  and I want to be part of this revolution. 
What is the one piece of NFT art you wish you had purchased but missed out on?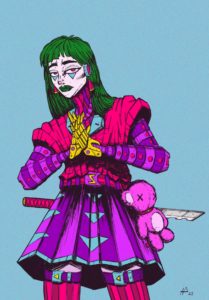 Well, I need to fill my wallet first before starting a collection, but "C.A LAST LAP 1" is Chien-An Chous first NFT and  since I'm a huge fan of his work, that would've been my first purchase. Maybe next time! 
If you could travel anywhere in the world where would you go? 
When the pandemic is over I will fly to Porto, where I could visit my family and relax for a while. Then straight to  Japan, Tokyo, that is my dream destination. But I want to finish my own projects first, so that I can enjoy my free time  there to the fullest. 
What are your other passions besides art? 
I love movies, they inspire me a lot and are a perfect escape from stressful times. Blade Runner, Akira, Nightcrawler,  Parasite, Oldboy and nearly every Ghibli movie are my favorite flicks. In the freetime I like watching football and play ing videogames with friends, you gotta socialize as an artist too 🙂 
How did you come up with your specific style? 
For a long time I tried to copy my favourite comicbook artists, but then I realized how important it is to develop an artistic voice by yourself. So my art style is a mix from thousand different inspirational sources like movies, books, songs, artworks, I really don't know how it all came together. My art style has developed itself over the years organically, not  with force and I think that's how it should be.  
How has your style evolved over the years? 
I learned a lot from the comics I was reading, so as a child that would be the Franco-Belgian comicstyle. When I turned  16 DC Comics launched their new universe here in Germany and I went to a local Comic Con to buy every single book  out there, that's how I got influenced by artists like Jim Lee. Finally I fell in love with the cyberpunk genre two years  ago, so everything got mixed together and my own art style was born. My illustrations got more realistic, so I started  studying anatomy and went to a life drawing class. I also started adding way more details and colors to my artworks.  The learning process isn't over yet, probably never will. 
What is coming in the near future?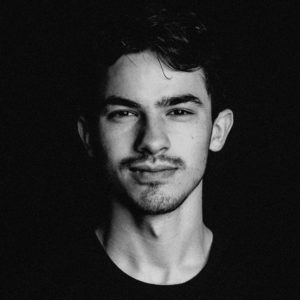 A new NFT collection and my own cyberpunk graphic novel are priority number one. There is a lot to do, I never get  bored and got hundred different ideas floating around in my head. Many projects that I want to work on, but like everybody else I just don't have enough time. So I will take one step after another, stay focused.  
If you could collaborate with one artist who would it be? 
Sean Gordon Murphy, that would be absolutely amazing. I got a long path in front of me to reach his level though, so I'll  think about it in a couple of years. 
Do you have any upcoming drops? 
I will mint my own cyberpunk characters that I've created for the graphic novel, it's a whole collection called "NEW  FUTURE" – consisting of five unique 1/1 illustrations. I want to drop a new NFT every week, so stay tuned! 
Where can collectors learn more about your art? 
http://www.andrevieira.art  
Social links 
http://www.instagram.com/andrevieiraart 
http://www.twitter.com/andrevieiraart 
http://www.artstation.com/andrevieiraart 
NFT marketplace links
http://www.foundation.app/andrevieira 
https://tryshowtime.com/andrevieira 
Follow us on Social Media