Please provide any details about your background and what got you into art: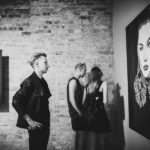 I'm an artist and photographer. I started like a comics artist in X3M magazine in 1999. After 8 years was an editor-in-chief of most popular Ukrainian comics magazine "K9". Organized  International Festival of Graphic Novels "9 World" in Ukraine and participated in the jury of the 33rd Angouleme International Comics Festival (biggest festival in France). After that I started my own way like a painter with some collective and solo exhibitions. From 2016 and nowadays I co-owner and art director of Métrique brand (https://metrique.com.ua/en/) . In 2017 I started my 35mm photography on film cameras and had personal photo exhibitions. Now I' m here in digital world with you)
One thing you cannot live without?
It's learning of something new. I' m addicted to new information. And of course without a painting, drawing, music and sport. I always doing something with music. Sport little helps me back in the reality.
Who is your favorite artists (Non NFT)?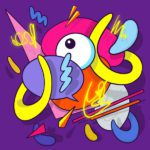 I have a lot of artists. The work of the Renaissance with Leonardo da Vinci, Michelangelo and Rafael, baroque – Velasquez and Jan Vermeer, after van Gogh, Picasso, Dali, Richter. Have a big period when contemporary artists like James Jean and Erik Jones became the inspiration. In comics, manga and anime for me Gods of Olympus are Moebius, Katsuhiro Otomo and Miyazaki.
In photography inspiration are Helmut Newton, Lindberg, Salgado, Leibovitz, Teller, Klein, Sorrenti and more modern Daniella Midenge, Zhang JiaCheng, Jack Davison, rip Ren Hang, Gho Gi Seok and Cameron Hammond.
Who is your favorite NFT artist?
At this moment Victor Mosquera, Daniel Taylor and Mr Misang. I love they atmosphere and colors. Think that they are fan of Jean Giraud Moebius too).
What is the one piece of NFT art you wish you had purchased but missed out on?
I want to buy some from Mr Misang, Mosquera, Taylor but at this time a little expensive for me, so I' ll try a bit later.
If you could travel anywhere in the world where would you go?
Tokyo and Kyoto. Think so many answered you Tokyo ahah)) But it's true. It' s a big place with a lot of inspiration for artists like me. Second place is New York.
What are your other passions besides art?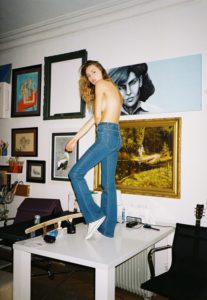 Making a shorts video with iPhone and old film cameras. I had a short period when I was involved in organizing parties and DJing every weekends. I think DJing too but I haven't time anymore for this, I love record mixes. Also play the guitar. In sport it's running and basketball.
Do you make other forms of art?
I like sculpture but drawing and 35mm film photography take all my time at this moment.
How did you come up with your specific style?
I think it was a huge inspiration from comics and manga. I always thinking that a new era of artist it'll be something hybrid from comics because every artist from NFT was grew by comics and not of Renaissance, Impressionism or what we see in galleries like Tate, Saatchi, Gagosian etc.
How has your style evolved over the years?
If you' ll check my Instagram page you' ll find my period after comics magazine 'K9'. After visiting Vatican I loved a lot of Renaissance, my first solo exhibition was with portraits of different girls in fine art style but after discovering photography I understood that can make portraits much faster with photography. So I decided to come back to my paintings roots inspiring from comics, manga and the Franco-Belgian school of graphic novels.
If you could collaborate with one artist who would it be?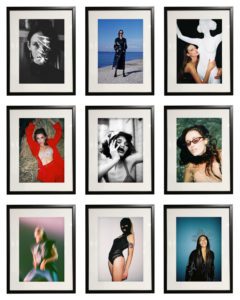 With Katsuhiro Otomo but I think it' s not possible, but for K9 magazine I took interview with him. Or Miyazaki? Also no? Ahah… So I think maybe with Mr Misang a little more real. Talked with him in direct messages. He' s very pleasant person.
Do you have any upcoming drops?
Yeah of course. At this time I started uploading on my second Foundation page: darklunni  my photos taken on 35mm film camera plus shorts video. And this week new artwork drops for KnowOrigin and Foundation.
Link to Website:

Social links:
http://instagram.com/alexis_olin
http://instagram.com/darklunni
NFT marketplace links:
Art:
https://knownorigin.io/alexis-olin
https://foundation.app/alexisolin
https://rarible.com/alexisolin
35mm film photograpy / video:
https://foundation.app/darklunni