Anna Levytska, artist working in high-contrast black and white. Dark, surreal visions are created mostly with ink on paper but also sometimes in digital techniques.
Where are you from?
I am from Ukraine, ancient and mystical city Kyiv. Currently live in Netherlands because of war.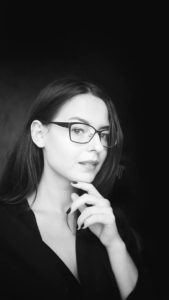 Can you tell us about your background and what lead you down the path to becoming an artist and ultimately experimenting with NFTs?
As an artist, I usually made illustrations for books, for music bands. Participated in art fairs and exhibitions, selling original physical artworks and prints. I am always interested in new possibilities and experimenting with mediums. When I first heard about NFTs in 2021 it was really exciting as an experiment, new way for art and the artists to grow in digital. When I started, I discovered the magic of new technologies, that confidence it brings and the super supportive community. I even started Dark Art NFT community, looking for like minded people and being encouraged by ultimate support to support artists too. It was really great to be inspired, to inspire to create virtual events like exhibitions for dozens of artists. I plan to continue working on my art both in digital and traditional ways as well as growing community.
When did you mint your first NFT? What platform did you choose and why?
I minted my first NFT on Rarible in March 2021. I knew a little about NFTs – it was easy to register there and to try. Best learning is to try 🙂 Later I got on FND and KnownOrigin. Now I am interested in personal smart contracts and all the new ways and technologies that are changing so fast in Web3.0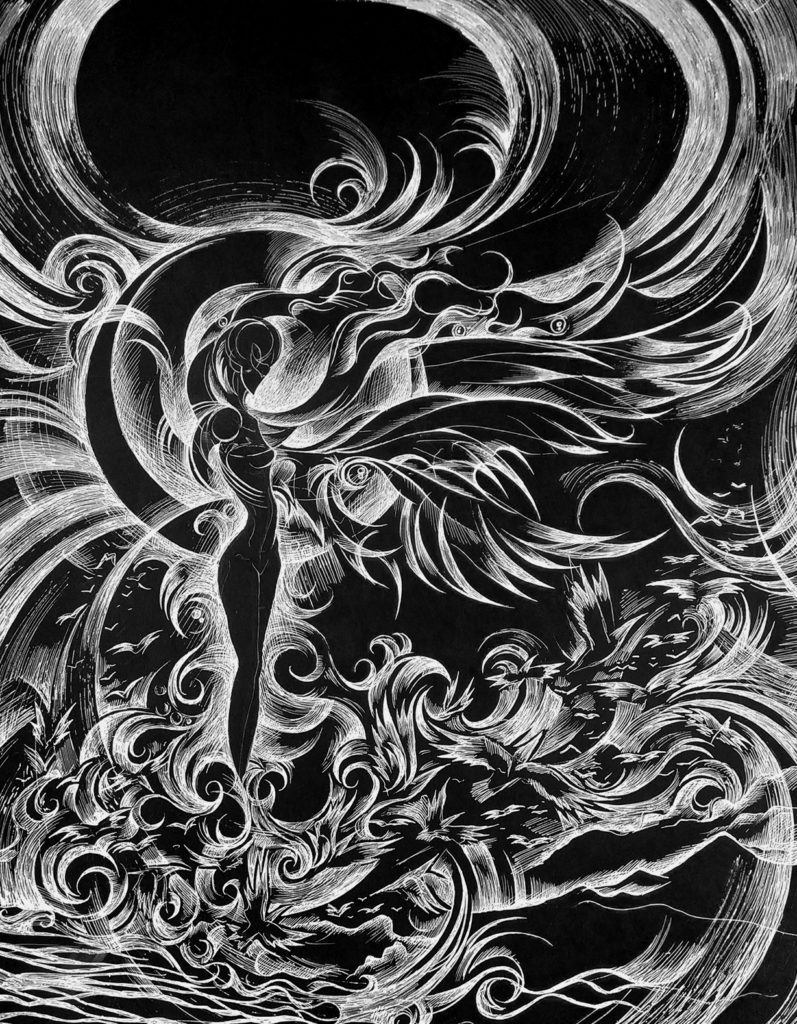 Can you tell us one thing you cannot live without?
Art, in any form – ability to create and enjoy others creations. Visual, music, written worlds. Even in darkest moments of life it helps a lot.
Who is your favorite artist(s)
I really love works of Zdzislaw Beksinski and H R Giger. I love dark and macabre art, surrealism.
Who is your favourite NFT artist? What makes this artist unique?
It's hard to choose just one artist, especially when you see so many incredible talents everyday in twitter feed. I love when artist have their own style, vision. Creating artworks with deep emotions and meanings, not just an art to be sold. And here's many of such artists, I even started collecting both on xtz and eth, to support them and show appreciation.
What made you pursue NFT art?
I see NFT as a world of new technologies and possibilities. New way for artists to communicate with collectors – and not with like old-fashioned galleries, but real people. Way for artists to have a forever proof of authorship and royalties. Community is amazing and really responsive.
Our world is changing, and it's always important to learn new things, stay updated on technologies and be forever curious.
What is the one piece of NFT art you wish you had purchased but missed out on?
Everyday I see lots of amazing artworks, and when I have a possibility I purchase it. Hope soon I will be able to get back 100% on NFTs and collecting too.
If you could travel anywhere in the world where would you go? Why this location?
Well, now in April 2022 I basically have a possibility to travel literally everywhere in world. What I want with all my heart – is my home to be safe. Ukraine, Kyiv. But I am ok now in Netherlands, it's a beautiful and a calm place with lots of canals, water around, I live it.
What are your other passions besides art? Why?
I love nature. Love travelling – sea, mountains.. I love animals and helping them. Psychology is one of my hobbies.
Do you make other forms of art?
I would like to. I do writing and dream to make music too someday. Try sculpture, AR/VR too. Create my own world, where every form of art is connected and complement each other.
How did you come up with your specific style?
Even while I have a degree in Fine Arts, I discovered my style and technique myself by experimenting, paying attention to something opposite of traditional academic art. Based on dreams, based on poems I wrote once. Drawing was always a part of me, in school drawing on lessons instead of conspects, drawing in every minute of my free time, creating the worlds, making it more and more surreal.. every technique and any activity need practice and imagination – and I had a lot of it.
How has your style evolved over the years?
Practice and experiments with new mediums, such as digital art and paintings gave their results. It started since teen age, from dreams and surreal stories, and later transformed in sketches from my own world. Someday I will make it more complete and full, I am still learning and doing my best.
What is coming in the near future?
I don't know, maybe everything will get better or maybe there will be WW3 and nuclear war. Who knows? That uncertainty we all feel now, sometimes it scares a lot. As an artists, we can transform these emotions and reflect it in art. If it can make a difference? I don't know either. But it can help personally, and help the viewer get over such fears and feelings. That's the power of dark and scary art.
If you could collaborate with one artist who would it be?
I am open to new collaborations, especially with like-minded people. Art usually attracts like-minded people and it's the one of the most encouraging and inspiring things.
Do you have any upcoming drops?
I am working on new works, series based on reflection of current events and psychological state. Mostly digital, 24.02.2022 collection on FND but also I am experimenting with acrylics, inks, mixed media too.
What was your greatest failure and what did you learn from that?
I feel that leaving home was my biggest failure but also a great way to help myself at least, as I am an artist, not a fighter. Everything is ambivalent and opposite, just like in my art – high contrast. I am learning and I am trying to do my best in every moment of my life. Every choice has it's consequences and responsibility.
Anything else you'd like to share?
No matter what – stay inspired, keep creating. Even in the darkest time, art can change your world. Stay open minded and keep trying. Do your best.
Where can collectors find your work?
Link to Website:
Social links
Fb/Twitter/Instagram
@avlevytska
NFT marketplace links
Foundation.app/avlevytska
KnownOrigin.io/avlevytska
Follow us on Social Media