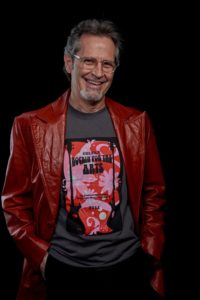 The creative process of Alan Bodner is spontaneous, unpredictable, and often chaotic. Shapes and objects are abstract, disparate—even fractious—but ultimately cohesive. His fine art is featured in galleries and museums throughout the U.S.—including the Paley Center For Media in Beverly Hills—and ranges from pop surrealism prints to multi-tier geometric assemblage.
There are myriad dimensions to Alan Bodner's geometric assemblage: colorful tiers of asymmetrical wood, board, and vinyl form imaginary environments and landscapes. Often larger than life, they are fine art incarnations of a carnival shooting gallery; a Noah's Ark of inanimate objects.
Raised in Portland, Oregon, by an extended family of dancers, musicians, toy distributors, and clothing designers, Bodner's childhood was an overload of creative forces that nurtured a timeless personality: an esoteric mix of Road Runner, Peter Pan, and Ideal's Mr. Machine. After an adolescence inspired by Erte, Miro, and mid-century pop art, Bodner moved to Los Angeles and developed his talents at Art Center College of Design.
Bodner's fine art is an extension of an award-winning, 25-year career as an Art Director for numerous studios and production companies, including the Walt Disney Company, Warner Bros., DreamWorks, The Cartoon Network, and Filmation, to name a few. Mighty Mouse, The Fat Albert Show, Heckle & Jeckle, and Pee Wee's Playhouse comprise his early credits—followed by Looney Tunes theatrical shorts with Bugs Bunny, Daffy Duck, Porky Pig and Sylvester & Tweety.
Alan Bodner accepts private and public commissions throughout the world. He resides in Los Angeles, California, near the Walt Disney Animation Studios where he is Art Director for The Mickey Mouse Funhouse on Disney Jr.
What is your favorite thing to do on a weekend? Just recently we moved to Hollywood, something we have thought about for years.  So exploring the westside of Los Angeles has been wonderful.  There is plenty of history to discover here.
One thing you cannot live without?
Aside from family, Coffeeeeeeeeeee!  And I love it with cream. Listen to music daily.
Who is your favorite artist (Non NFT)?
I am a big fan of many artists in animation especially from the 1950's and 1960's
I am very influenced by mid century art and styles from Art Deco, Art Nouveau and abstract expressionists. To name a few Miro', Klimt, Walt Disney and the late great Maurice Noble.
What made you pursue NFT art? A good friend of mine Susan Prescott introduced me to PRISM.  This is the start of my NFT journey.
If you could travel anywhere in the world, where would you go?
I have many places yet to see.  Italy, Ireland, Hungary and Australia are on my list.
Link to Website: alanbodner.com
Social links: Instagram: TheBodenaire
NFT marketplace links: https://prismnfts.com/user/@alanbodnerart
Follow us on Social Media