Can you tell us about your background and what lead you down the path to becoming an artist and ultimately experimenting with NFTs?
I am French of Senegalese and Cape Verdean origin. I was born in a department of Ile de France very close to Paris. I grew up in a city in a loving family with a musician father very famous in Cape Verde. My family has always been very supportive of me. Very early I started to scribble things on the corners of pages of my notebooks at school and this until my adolescence. It was only later when I entered university that I discovered photoshop and I felt deep inside that it was the tool that would allow me to explore my artistic inner strength and allow me to bring to life the ideas I had in my head, and this in a more precise and efficient way than the drawings allowed me. From that moment on I never stopped creating. For me it became as natural as breathing. Creating had become the thing I did most in my life to the point where my dream became to live fully from my art and to be recognized as an artist. Especially since blockchain technology and cryptocurrencies were areas that interested me a lot and this since 2017 so in the end it was only natural for me to venture into this wonderful world of NFTs.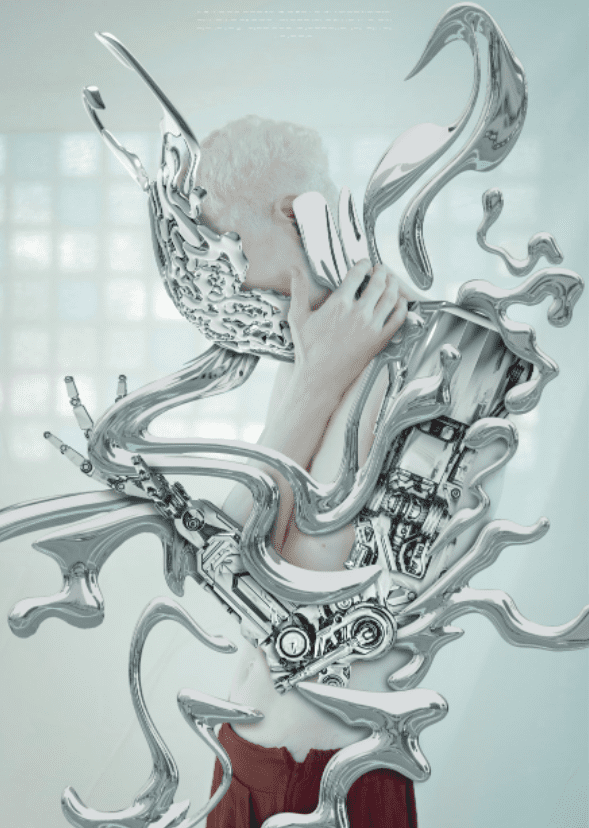 What are your passions besides art?
My other passion outside of art is bodybuilding because I am deeply convinced that developing your body goes hand in hand with developing your mind. This is what I try to do with the means that are mine. This allows me to constantly challenge myself, to surpass myself both physically and mentally and to become a better person.
Who are your favorite Artists?
My all time favorite artist far ahead from all the others is the painter William Bouguereau.
What made you pursue NFT art?
The main thing that made me venture more and more into this NFT world is the idea that my work can be immutably integrated to the blockchain. Starting my NFT journey in early 2021 I felt like a pioneer in a world where I can be recognized for my work, a world where many other artists are also present, exchanging and developing again and again. What comes in second time is the fact that I can thanks to that envisage to live of my work, more especially that to enter the universe of the NFT was worth to me to be exposed in incredible places (Japan / Los angeles in particular) and to work with big names of the art of our times! I think that the day my instinct pushed me to venture into this path was the day I made one of the best decisions of my life.
How did you come up with your specific style?
At the beginning I was someone who drew a lot, and over the years I started to draw on the computer. My drawings were very manga oriented so I did that for a number of years. After a while I didn't like it anymore so I started to try several things more oriented to digital art such as collages. Little by little I went from the art of collage to the art of mixed media in the sense that before my work was mostly akin to photo manipulation or photobashing. But little by little I started to work with 3D which opened a whole new field of possibilities. Today I integrate forms or elements that I have created in 3D to royalty free photographs or photos provided by the photographer in case of collaboration.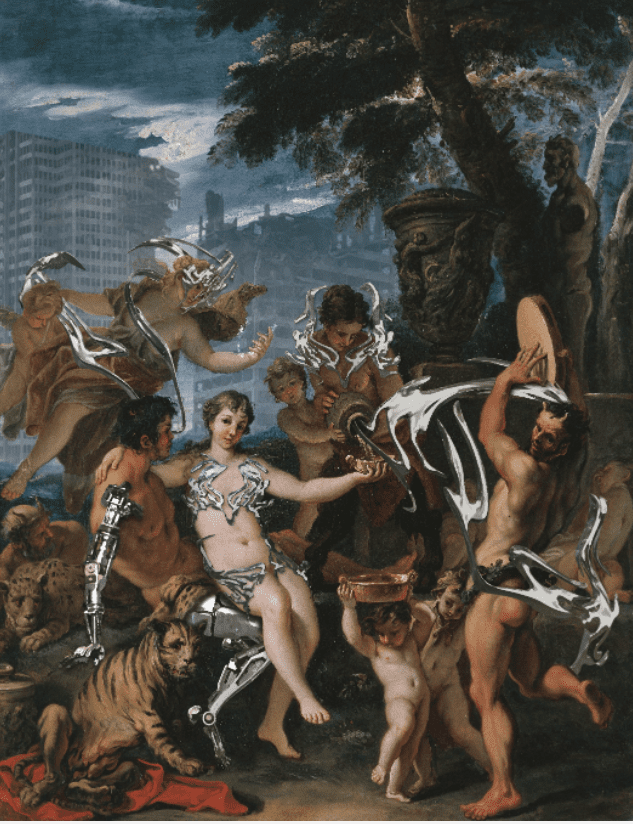 How has your style evolved over the years?
I would say that over the years my skills and the way I build my artworks have changed. I feel much more capable of bringing my ideas to life. My skills in 3D have evolved and I'm more and more emancipated from photography and my 3d elements take more and more places in my work which gives me more and more artistic freedom.
What are your other passions besides art?
My other passion outside of art is bodybuilding because I am deeply convinced that developing your body goes hand in hand with developing your mind. This is what I try to do with the means that are mine. This allows me to constantly challenge myself, to surpass myself both physically and mentally and to become a better person. When I look back I feel a lot of coldness in my artworks and see that over time I have transmitted more warmth, more life, in particular through more organic forms which are also emancipating themselves more and more from the coldness of the metal. I wanted more and more to bring my own aesthetic into the world of cyberpunk / transhumanism. Play more with more fluid organic and colored shapes. My challenge today is to go beyond conveying emotions through my works but to tell a story. And this will be more visible in my next work.
If you could travel anywhere in the world where would it be?
It would be in Japan
What is your Favorite NFT?
Its a piece called 'Peace Talks' made by the artist @deArtifact
What other information would you like featured?
Art is life.
Biography
My name is Marvin Correia Silva A.K.A Tokyoflesh, I'm 25 and I'm a graphic designer for about 3 years and an artist for about 6 years. For three years now I have been focusing my work on transhumanism and cyberpunk which are themes that speak to me a lot. I come from a very loving family with a lovely mother and a musician father very famous in my country of origin, Cape Verde, which inevitably had a certain impact on my artistic sensitivity. Shortly after, at the age of 10, my father enrolled me in a music school, which I followed for one year, but I ended up quitting for lack of desire, because my little inner voice made me understand that the musical instrument I was learning was perhaps not my artistic tool. Beside music I drew a lot, characters from the manga Dragon Ball Z were my rst drawing models. Little by little I started to invent characters, always in the manga style until I felt a real passion for drawing. When I was a teenager, this love for drawing grew exponentially, encouraged by all the manga and anime that I regularly consumed like Naruto, Bleach, One piece, Hunter x Hunter, Hikaru no go, Fullmetal Alchemist, Darker than black and many others. The other universe that had a great impact on me is the video games because I was charmed by the science- ction, RPG and space opera games. Music also has an impact, especially Daft Punk's music, of which I am an unconditional fan. After high school, by a miracle I managed to be accepted in an art program at the university where I could discover several artistic elds and learn a lot of things about art history which really allowed me to develop a good artistic culture and to feed my creativity with a lot of references, but the biggest discovery was Photoshop. The Photoshop classes for a semester introduced me to the basics of the software but I quickly had the desire to go further than what the course o ered, so I started to learn on my own thanks to tutorials on the internet which taught me much more than all my years of study put together. After these 3 years I went on to do another one year license and then a two year of master degree in art direction. Over the years I have learned to nd my artistic path, and in the end my work today is the result of all the things I have seen, experienced, the result of all the in uences I had and my life experience. What attracts me in cyberpunk and transhumanism is the aesthetics they bring. I am someone who likes to dream and imagine what the world of tomorrow will look like, to project myself and to have the freedom to imagine the future of our species, this is what I appreciate the most. It is therefore natural for me to turn to an artistic style that combines these elements. Paradoxically I wish that the gures that I depict in my works remain "imaginary" and that humanity will never reach such a level of technology and body modi cation because in my opinion it would be too far from our humanity and dangerously close to the end of our species. In my opinion, the human species can't last if technology takes a too important place within its own body, if the presence of machines looking like us like two drops of water (robots, androids) becomes normal, it can only lead to drifts, sometimes even unsuspected. It's only my point of view after all but sometimes imagining the impact of the future I create in my work scares me. In a way creating these things are a way for me to satisfy my desire to see this future without its negative aspects. It is because of all this that my rst cyberpunk works often depicted characters with scars, scratches, damaged skin and especially tears. It is only later that I wanted to go beyond these representations by also wanting to show more beauty and harmony, to put this aspect of sadness more in the background. I also sometimes use references to religion in my work, whether in the titles, descriptions or even iconography. From my point of view as a non believer who grew up in a religious family and with biblical stories, I nd religious myths very inspiring in art and that's why I also draw some of my inspiration from them. The notions of souls, of the super – natural, of mysticism are not foreign to me and I feel that they appear more and more in my work. Art is for me a huge playground in which I can set my own rules, experiment things without limits, that's why many projects will arise from my artistic practice and if you want to follow all this do not hesitate to follow me on my social networks! All this is only the beginning, the goal is to give more and more substance to the universe that is being set up in my head to make it more palpable.
Links to NFT Marketplaces
https://foundation.app/@Tokyoflesh
https://hic.af/tokyoflesh
Social Media
Website
https://www.behance.net/Tokyoflesh
Instagram
https://www.instagram.com/tokyoflesh/
twitter
https://twitter.com/Tokyoflesh
Follow us on Social Media