Where are you from? (Provide a little bit of your background, have you moved etc)
I am originally from Rimini, Italy. I moved to London in 2015 at the age of 9, and have been since then.
Can you tell us about your background and what lead you down the path to becoming an artist and ultimately experimenting with NFTs?
My artistic background started right at the beginning of my life, art has always been at the core. It all started by making drawings on Microsoft Paint and creating book covers on paper. Since then, when I shifted over to London, I started making small journals. My artistic path truly started though when I began making Microsoft PowerPoint presentations. That spiked my interest in design even more, and taught me the power of learning new skills. Talking specifically about art, I started learning 3D with SketchUp Pro at the beginning of 2019, as I bought my first 3D printer at the time. I improved my skills year by year by creating vases and accessories for "my" online shop. 2021 was a life-changing year, as I started competing in architecture competitions and entered a more business focused mindset. NFTs really started as just another task in the calendar. The chances of me starting this journey were actually brittle, but eventually began in December 2021, and since then had no regrets, indeed went all-in, finishing school at 15y/o to focus on the art.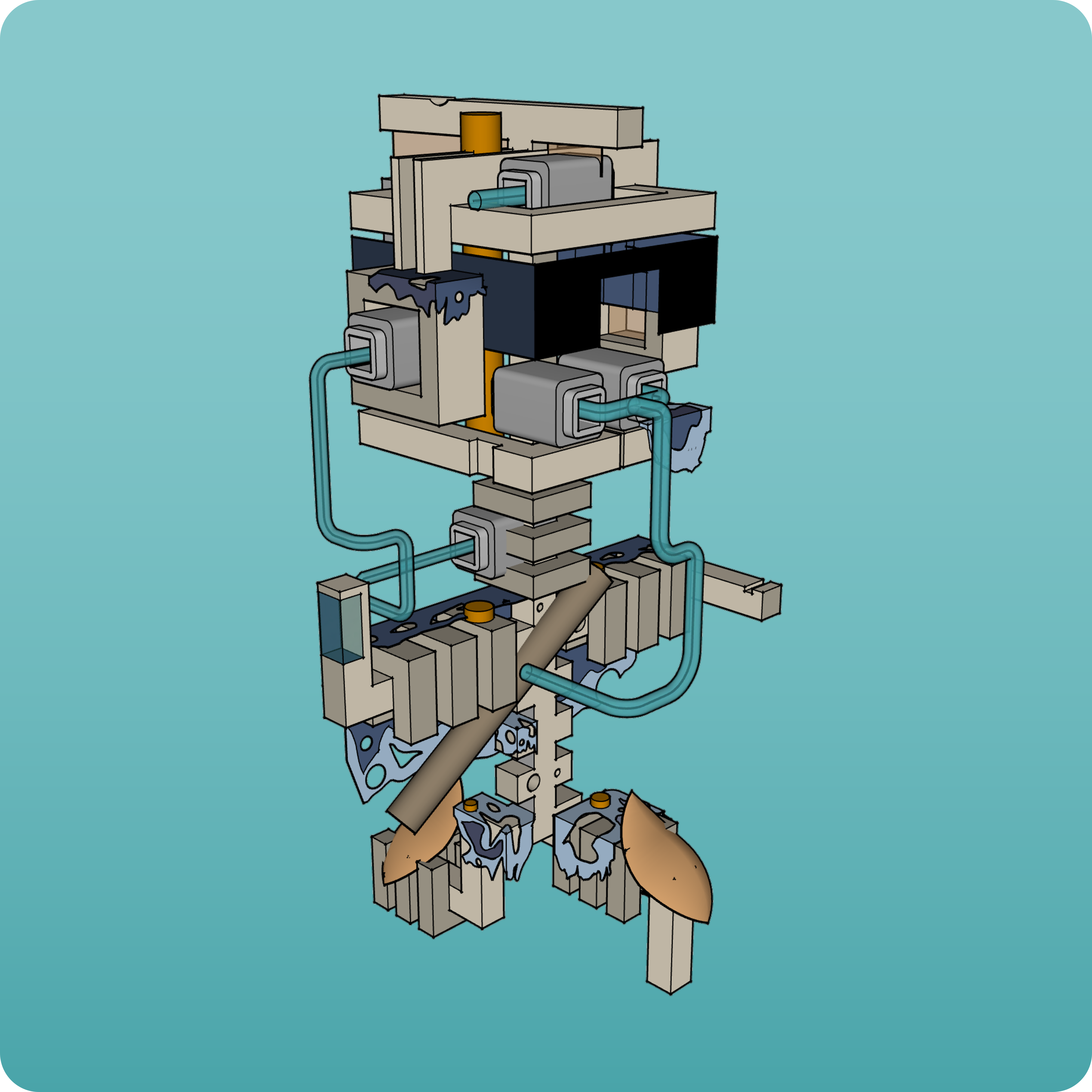 When did you mint your first NFT? What platform did you choose and why?
My first NFTs were minted around the beginning of December 2021, right when I started. I really didn't know much about them, and lazy minted them on Rarible in no collection. There was no fixed number or anything, because I had no idea of what I was doing. Since then, I burned everything on Rarible, and restarted the journey with new BrickBeads in March 2021 on OpenSea and more. I chose OpenSea for the main collection because of it being the biggest NFT marketplace, as well as it being cheap for me to start.
Can you tell us one thing you cannot live without? (and why)
I absolutely couldn't live without music. Reason being it's the most powerful energizer for art and life in general. If I feel knocked down, it can make me think of a bright future, while for art it makes me concentrate, makes me fell free and happy, and like time doesn't exist at all.
Who is your favorite artist(s) (Non NFT)? What about their style resonates with you
There are many artists of which I feel much respect towards, and it wouldn't be fair to point out just one. Each has an iconic style of their own; I would add to the list Federico Clapis, 0xTjo, Four IV, OtherWorld, FVCK Render, Mark Inducil, Ronald Ong, 1DontKnows and many more… Special mention though to the famous XCOPY and Beeple, who I admire and look up to. Talking about styles, its simply a connection. As soon as I saw their art, I loved it, essentially they easily quickly appealed to me.
Who is your favourite NFT artist? What makes this artist unique?
If I had to analyse just one artist of the bunch, it would be Federico Clapis. I casually heard his name in 2020, "way before NFTs went mainstream". The uniqueness of this artist
What made you pursue NFT art?
What made me pursue NFT art instead of creating a business, which I was doing at the time, is the passion. Look, I though artists were people who couldn't make enough money to survive back in 2019. But understanding the environment and technology behind NFTs, made me stop everything I was doing, and as I already said, go all-in. I will be making art for a lifetime, and NFTs are the beginning and also hopefully the future. It's something special, and it's just the start.
What is the one NFT you wish you had purchased but missed out on
Even though I sold countless NFTs and grown a lot, I haven't properly bought an NFT yet. The reason being I am trying to save up for a new studio, equipment and more. I intend to buy art from selected artists soon for sure, as I am a big believer in NFTs and the art itself.
If you could travel anywhere in the world where would you go? Why this location?
I live in London, which is arguably one of the best spots in the world. In terms of travel, I really don't care much about the destination, rather the travelling itself. My dream with this profession is to be able to constantly travel, while taking with me the equipment to create.
What are your other passions besides art? Why?
My passions are many aside from art, but clearly the main is technology. I love NFTs for being close to displays and stuff. I have been a fan of cutting edge technology for a long time, wrote books and sport myself incredible devices. It's also
Do you make other forms of art?
In terms of other forms of art, yes and no. My main one is no doubt 3D and soon animation. I always hated physical art, like painting, modelling, collage… But I am myself a big fan and professional artist in graphic design, presentation design and book cover/logo design.
Are you self taught or trained?
My style, at least in NFTs, is the BrickBeads world itself. How did I come up with it it's a great story. It began when BrickBeads were simple squarish characters in mid-2019, and were to be used for 3D printing functioning as vases. They didn't work out, so I left them in an online folder… until I used the idea, turned it into something special and they started in late 2021. My style, with BrickBeads, is about constant improvement. Talking about the name, since it represents the style, was actually random. I took 5 minutes off, and I had the idea for the name, which is strategically constructed with two 5-letter words starting with the letter B for easy brand recognition.
How did you come up with your specific style?
My style improves by the day. Improvement is my main mission/focus, and it makes me proud to see it happening, significantly every month. I mean, I went from creating badly rendered cubes to complex 3D characters and more in just ~6 months.
How has your style evolved over the years?
I already collaborated with some artists, and don't plan to collab anytime soon. Though I have some ideas in mind…
What is coming in the near future?
In terms of upcoming drops, yes. As I said, the SuperRare genesis, my best fine art piece should be coming by the beginning of September (this year) and more BrickBeads are coming to the BrickBeads 2 Collection.
Link to Website
Website = https://www.spazio7desin.com/
Twitter = https://twitter.com/spz7dsn_graphic
Instagram = https://www.instagram.com/spz7dsn.graphics/
OpenSea = https://opensea.io/brickbeads_eth
Foundation = https://foundation.app/@spz7dsn-graphic
SuperRare = https://superrare.com/spz7dsn_graphic
Follow us on Social Media