Upcoming Drops
In an effort to provide access to information and a comprehensive view of all the upcoming NFT Drops, we have created a new calendar feature that will allow our audience to see what is up and coming. This list covers a wide range of projects that we find or that are submitted to us. Any project on our website, specifically in this category should not be considered an endorsement by the team. (If you have a project you want added to the calendar please submit it here)
We have added capabilities to add these to your google or apple calendars as well.  Learn more here: https://www.nftculture.com/drops/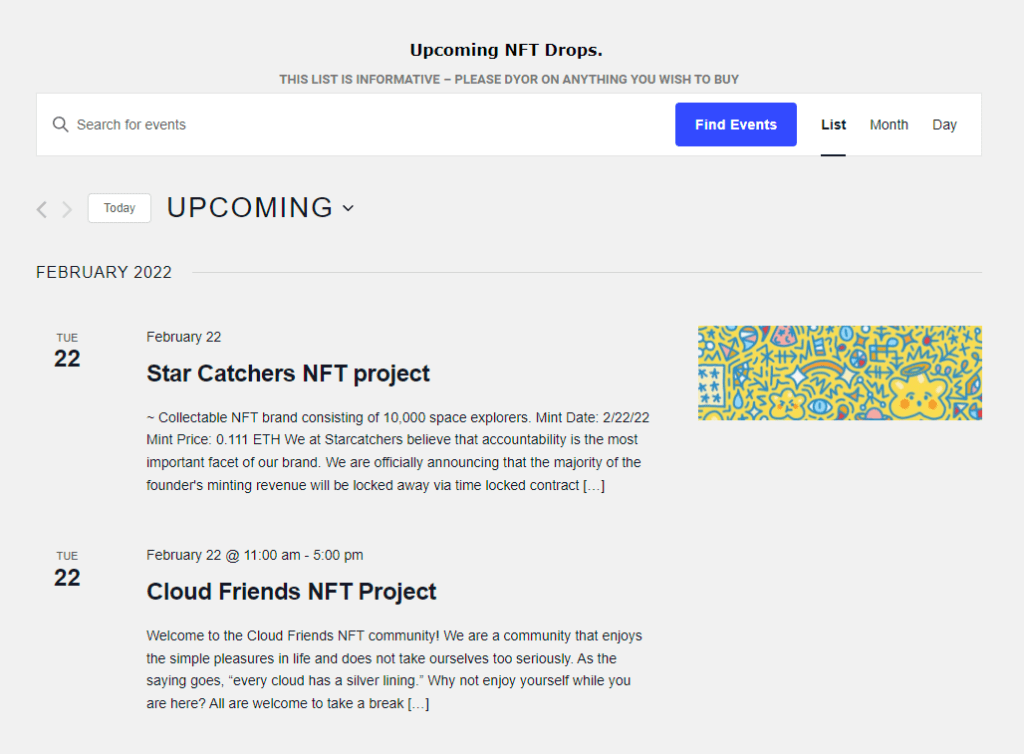 Upcoming Events
We want to provide the most comprehensive list of NFT events, big and small. With that we've added public access to NFT Culture Events.
We were extremely excited to be a big supporter of NFT.land in Las Vegas and were terribly upset when it got postponed.
We are planning to do something similar to what we did last year again in New York this June for NFT.NYC.
We will also be speaking at NFT.NYC and looking for additional opportunities right now.
We are looking to host or sponsor some regional meetups for NFT Collectors that aren't on the coasts.  Reach out if you want to submit an event idea. 
Token Holder Access
The goal of the NFTCulture token has always been about community building and providing a forum for our collectors to interact with one another, support eachother, and grow.  We are very proud of the steps we're making in this regard. With that we wanted to share some of the updates that token holders have access to.
Alpha Announcements: Daily (mostly) curated drop information about drops that pass through a myriad of filters. These are not considered endorsements but are narrowed down from the often 30+ drops that occur per day.
NFT Project Check: Submit a project you're interested in learning more about and we will review the project to look at the health of the twitter, discord, etc.
Wallet Peeping: we have added Wallet Peeping capabilities so you can watch your favorite influencers or collectors and receive notices in real time as they buy and sell NFTs. (You can also submit your own influencers you want us to watch).
Mint Alerts: Real time mint alerts when there is massive momentum behind a project to see what is moving in near real time.
Concorde As a Service: a curated list of projects (a few times a week) that pass through the Concorde filters that collectors should keep an eye on.
A myriad of channels: From gaming to alpha chat and follow back.
Whitelist Opportunities: We are actively seeking WL opportunities and contests for token holders.  Right now we are doing 1-2 contests per week but are working on getting to daily contests soon. With that we are also working on a WL bounty mechanism where submitters of great projects that want to be featured on NFTculture.com (over 110k unique monthly visitors) and provide WL opportunities or contests for token holders.
Media Updates
 AshleyNFT has now become a regular content contributor to the NFT Culture team, providing weekly content and written interviews with projects and artists.  Her experience in crypto and launching her own project give her a unique perspective and a refreshing source of content for the team.
Guest Blogs from MayWayFarer. An active participant in the NFTCulture Discord, She has started publishing some guest posts and content to help artists navigate the NFT space.
Regular Spaces: Lauren and the team made a lot of progress last year on NFT Spaces. We are looking to relaunch that again with regularity starting soon. We believe we will do a MWF show in the afternoons to find our own timeslot that works for everyone, and create a space that really dives into the CULTURE of NFTs.
Too Perfect is helping with a secret project we can't talk about yet. 🤫
We are looking for a permanent host for the NFT Culture YouTube (paid position). If you are interested and have experience hosting in the past please contact us.  We are also looking to create sub shows on the platform to help up and coming commentators build their own brand.
Weekly AMA's and Office Hours in the discord.
Daily Newsletter launched earlier this year (M-F)
WEN Merch?
We have seriously dropped the ball. Our goal is to have an update by the end of this week with options for token holders.  Details to come.  Will likely have options between hoodie, hat, or tee-shirt. We are working out the details with Maddies. Outside of merch for token holders we will be making other merch options available for sale in the near future.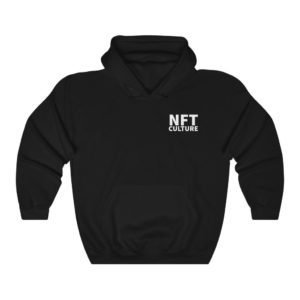 WEN Phase 2
We are actively working on phase 2 of the NFTCulture Ecosystem to provide additional value to the community. We have explored many options and learned many lessons.  The biggest of these lessons is that cryptic components (like the complexity of the forge system) are technically awesome but we aren't pak. We're working on all of the details for this next phase and hope to be sharing some really cool announcements in the near future.  Please continue to be patient with us, we want to do our best to get this right.  We're not going anywhere, we're 100% doxxed, and we have a 5 year plan / roadmap. 🤫
End of phase 1 – turn off claiming of The Gallery season 1, and then burn all remaining tokens of each artwork and also burn all remaining v1 ember. NOTE: Season 1 is past its prime now, we are going to turn it off SOON. Any day after 3/1 might be the day. This is your official notice. Once its off its off.
Start Phase 1.5 – redo nftcult front ends w/ modernized implementation by NFT Culture Labs developers.
Phase 2 – some concepts we have in development, and announcement of first utility of ember.
Other Announcements about Announcements
We are working with some of the top artists in the space to do a curated NFT Culture x Redacted  on Redacted.  But an announcement may be coming sooner than people think.
We are exploring opportunities to do additional curated artist drops on Redacted so if you are an artist looking to grow in the space please reach out.
We have spun up two additional developers (with 2 more in queue) and learned a lot helping the NoobPunks project launch on ERC-721a.  We hope this scale will allow us to help other community members with future projects and additional enhancements to the community.
We have made much of our codebase publicly available on github.
We are working with the team at ninjalerts.com on something really cool for both private and public community members.
Additional collaborations. We've been honored to Collab with so many teams already including, Top Dog Beachclub (studios), the Mad Pups, Fan3, and Nevins Underground. Expect additional collaborations to be announced soon.
Part of the team is helping support Monster Champions and details will come in the future.
Sign up for our Newsletter for the latest NFT News:
Newsletter: https://www.nftculture.com/newsletter/
Join Our Discord: https://discord.gg/nftculture
Follow us on Twitter: https://twitter.com/NFTCulture
Follow us on Social Media