Who are the mad pups?
The Mad Pups are a collector-led group that came together over a shared passion for NFTs and especially digital art.
How did you get started?
How we got started is a really interesting story. We are like most collectors, we just had the good fortune of being early, but our experiences individually are something that we feel a lot of collectors can relate to. We come from different backgrounds, but NFTs brought us together in the first part of 2021, as we were all collecting on Nifty Gateway and spending an inordinate amount of time in their Discord server.
As many may recall, one of the biggest drops early in 2021 was Mad Dog Jones' Crash and Burn back in February. Part of this drop involved the opportunity to burn five of MDJ's genesis pieces (either Ideas r the currency or Thoughts as a system) and in return you would receive a 1/1. You have to remember, this was one of the first drops to incorporate a burn mechanism, and it was really innovative at the time. A couple of the future Mad Pups held o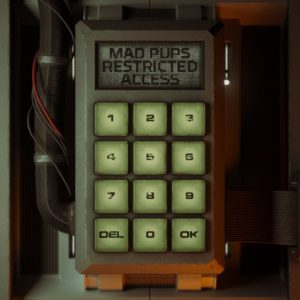 ne or two of these burn pieces, but not enough to redeem for the 1/1 individually. We were discussing what we should do in Discord, as a few whales were already redeeming for 1/1s and the prices on the burn pieces were skyrocketing. We kept raising our prices higher and higher when an idea hit us—what if we collectively burned for a 1/1? We checked with MDJ if this would be allowed and when he gave us the green light (he always thought a group would do this), we burned our pieces for what became Overpass (Night). We ended up being the only group to burn for a 1/1 and it's one of the best earliest examples in our view of the power of collective action in this space. There were four of us at the time, and thus the Mad Pups were born.
In the coming months, we took the opportunity to expand our group to what is now eight collectors, and we expanded our collection as well, buying 1/1s from the likes of Ness Graphics and toomuchlag. And of course we bought some apes, BAYC 4544 and 4991 being full members of the Pups.
https://niftygateway.com/profile/themadpups
Who all is involved in the mad pups?
Barry (http://twitter.com/bitcoinprophet1)
DarfV8R (http://twitter.com/darfv8dr)
Darran (http://twitter.com/darran0x)
Joff (http://twitter.com/joffnft)
Justron (http://twitter.com/thejustron)
Segito (http://twitter.com/sergitosergito)
Sven (http://twitter.com/sven_nft)
Will (http://twitter.com/wsavas)
How did you transition from collectors to curators?
Our group has spent a significant amount of time working with artists over the past year on drop structuring and providing advice on how to cultivate a collector base. We also spent a significant amount of time working with Nifty Gateway to improve relationships with the community during April and May, which came at a time before NG was adequately staffed to handle the exponential growth they were experiencing, with a couple of the Pups leading the Nifty Town Halls that were a staple of the period. We've always felt that there were three equal participants in this space: Platforms, Artists, and Collectors. All of these participants can help push the space forward, and given our experience working with both Artists and Nifty, the transition to curators was a natural one.
How did you select your Artists?
We selected artists based on personal relationships that we've developed over the year. While all of the artists releasing on January 1st are new to Nifty Gateway, they are not new to NFTs or digital art. The Pups have all collected a lot of art across various platforms, so we had a network of existing relationships we could call upon to curate this drop.
Why was Nifty Gateway Perfect for your drop?
Nifty was the perfect platform for this drop for a couple of reasons. First, the Pups wouldn't exist without Nifty Gateway, so being able to drop on Nifty is truly special for us. Second, we believe it is important for artists to grow their collector bases thoughtfully via limited edition releases, which Nifty is perfect for. We are very passionate about helping artists grow, and while the artists we are curating have all found success elsewhere, some selling 1/1s in the past for staggering sums on other platforms, having them drop on Nifty will further establish them in the space. Third, we also want to expose collectors to new artists, as many smaller collectors can't compete for 1/1s and also many collectors that are not crypto native cannot yet access art outside of Nifty.
A lot of people are intimidated by NFTs how does NG help from a Fiat perspective?
It's the last point above that is especially important to us. Nifty Gateway remains the best platform for onboarding new collectors into NFTs because of the fiat on-ramp that they provide. Being able to purchase NFTs via credit card or bank transfer (via Gemini) is truly unique and can be a lifechanging experience—just ask us, several of the Pups got their start buying NFTs not with eth but with credit cards on Nifty! What better way to start 2022 than to provide an opportunity for new collectors to start their journey than with an incredible curated drop on the most accessible NFT platform?
Which artists are involved in the drop?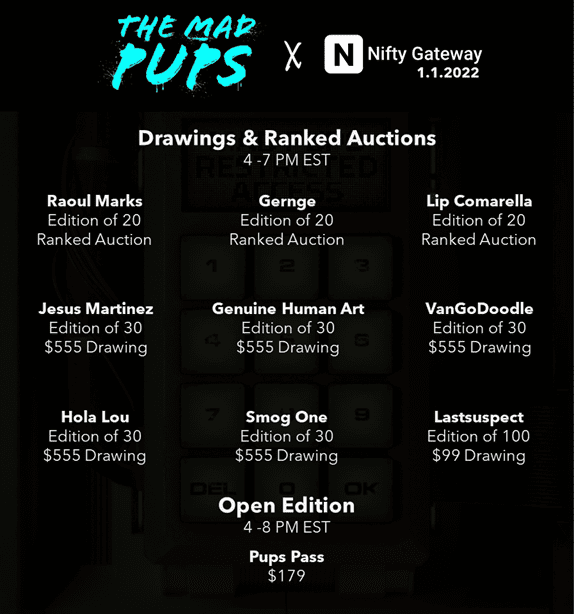 There are nine artists releasing in this drop, each releasing a limited edition NFT via drawing or ranked auction:
Genuine Human Art (http://twitter.com/GenuineHumanArt)
Gernge (http://twitter.com/_gernge)
Hola Lou (http://twitter.com/holalou_)
Jesus Martinez (http://twitter.com/Jemt888)
Lastsuspect (http://twitter.com/Suspectlast
Lip Comarella (http://twitter.com/LipComarella)
Raoul Marks (http://twitter.com/raoulmarks)
Smog One (http://twitter.com/smogoneart)
VanGoDoodle (http://twitter.com/vangodoodle)
Why did you select this group?
We selected this group because they're all incredible artists, but also for their diversity of backgrounds and artistic styles. Digital art is such an amazing space to explore, we wanted collectors to be able to do that within our drop. We have 3D artists and abstract artists. Pixel artists and street artists. And of course we included a photographer. Not to mention our artists come from all over the globe. We hope to expose the collector community to this and encourage them to continue exploring new frontiers within digital art in 2022 and beyond.
What other plans are in store for 2022 and beyond?
In addition to the nine curated artists, we are releasing a membership pass via Open Edition during the drop. This pass will provide access to all future Curated and Verified Drops on Nifty Gateway, as we seek to continue onboarding both new artists on to the Nifty platform and new collectors into the NFT space.
The "Pups Pass" will be available for $179, making it an affordable entry-level NFT for those looking to start their collection. Even without the added utility that will come from holding the pass, we wanted to make the pass stand on its own as a piece of digital art. That's why we partnered with an incredible artist (someone many experienced collectors will be familiar with) to produce a truly special work of art. It's the first chapter in a larger story we're eager to tell, and we think the larger community will be quite happy with the piece once they see it.
Where can collectors learn more about your artists?
Learn about all of the artists via their Twitter accounts and definitely take time to explore their existing collections on other platforms like SuperRare, Foundation, OpenSea, and more.
Where can collectors learn more about the Mad Pups?
You can find each of the Pups on their Twitter accounts, and be sure to follow our primary account @themadpups
We are all very active in various Discords, of course including the Nifty Gateway server. Find us there and ask questions. We will also be hosting a Twitter Spaces during the drop if you'd like to ask questions live!
When is the drop?
The drop will take place on Nifty Gateway on January 1, 2022
Drawings & Ranked Auctions will run from 4-7 PM EST
The Pups Pass will be available as an Open Edition from 4-8 PM EST
Follow us on Social Media