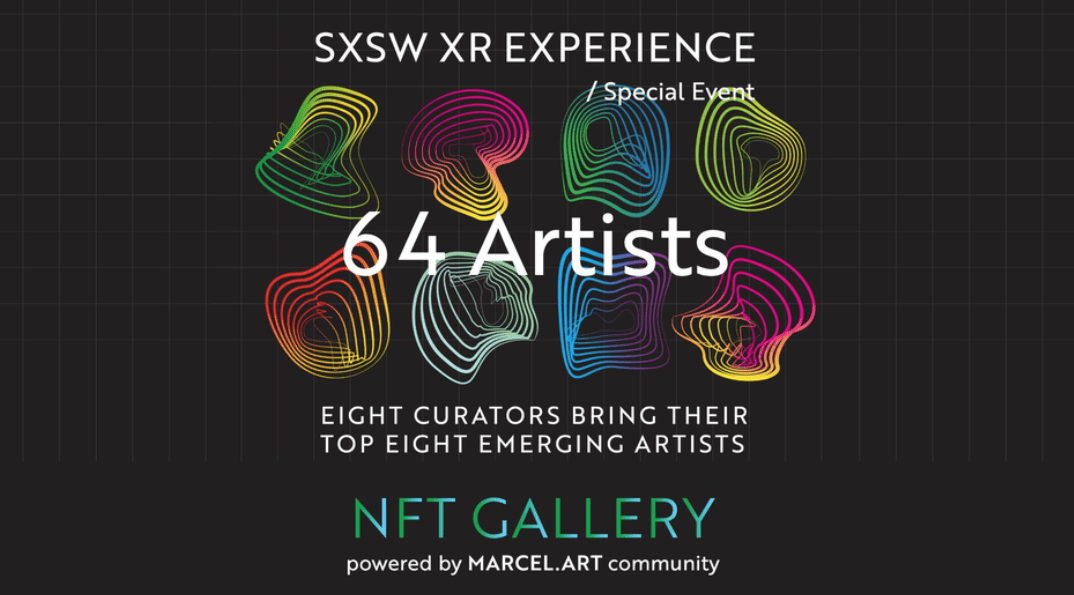 Offline
SXSW
Austin TX
Congressional Ballroom
Blending the IRL and digital experiences, marcel.art XR showcase explores the future of experiencing creative content. Across eight exhibitions with rotating show times, sixty four emerging artists of multiple disciplines connect with eight creative curators. Through a mix of visual media and presentations, the collections NFTs touch on themes including cultural identity, nascent trends in digital creation, moving image as a narrative tool, and animation.
Each exhibition highlights the conversational discourse between the curators' intention and the artist's output – attenuating the criticality of community in creative endeavors across the physical and the digital.
Description: back to the artist, to the story behind the work of art. NFTs are the perfect digital tool to disrupt … the way we are linked to these stories, but to understand what NFTs are, is still abstract.
Description: In this workshop, you will go from zero to creating a freshly minted NFT token and storing … JavaScript, the ethers.js (opens new window)library, and React. We'll be minting NFTs on the Ethereum
Description: they could never have done before. This talk will discuss how the rise of tokenization and NFTs
Description:  the Internet has disrupted the movie and television business, NFTs and decentralized technology will allow … . This panel will lay out in simple terms what NFTs are, how they work, and how musicians can best deploy NFTs to turbocharge their careers.
Description: , NFT and the Metaverse. Let this be your on-ramp to the future of the digital world.
Description: The rise of AR (augmented reality), VR (virtual reality) and NFTs (non-fungible tokens) in the art