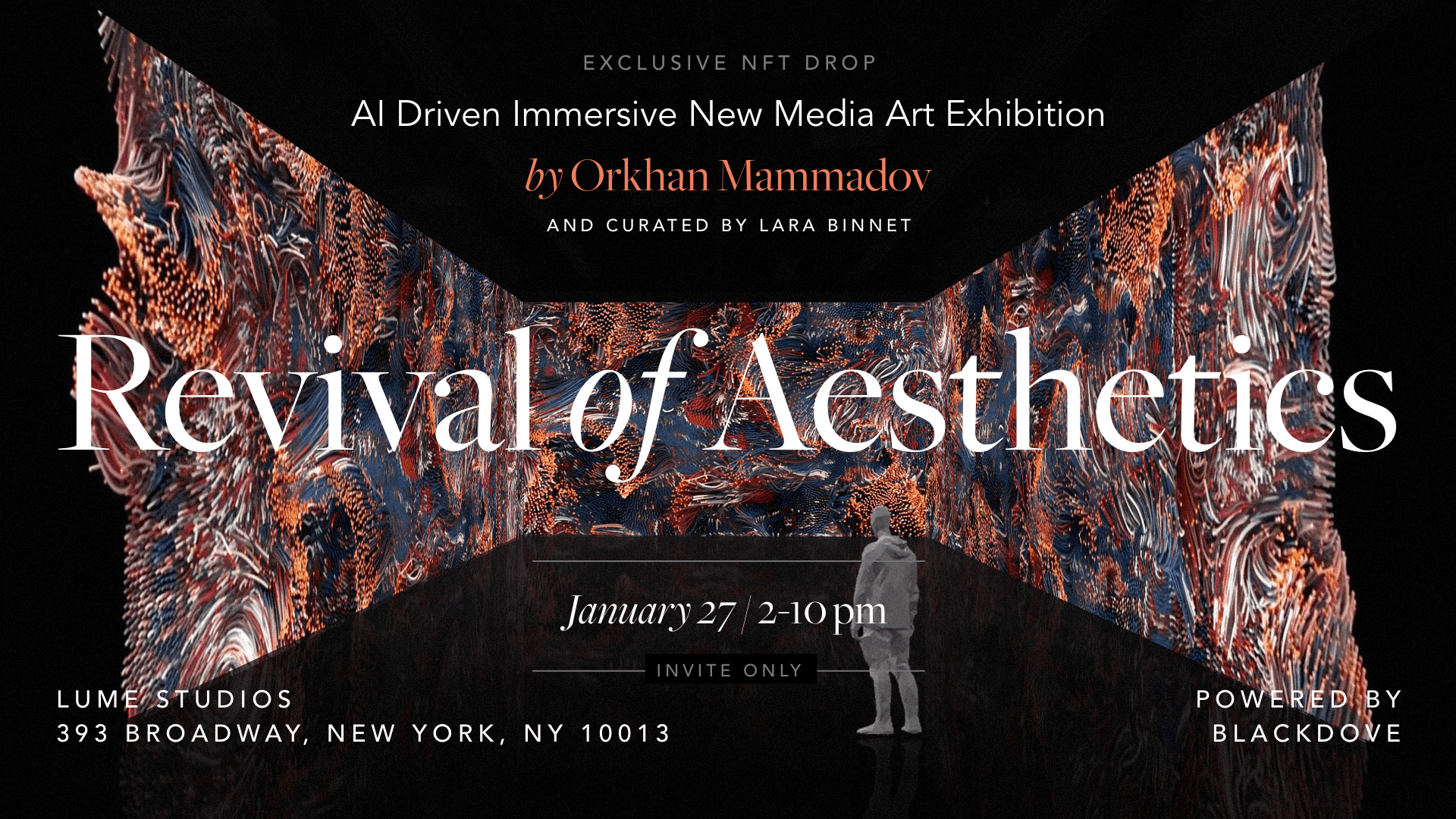 Offline
Orkhan Mamadov
Lume Studios in New York City
For his first solo show in NYC, new media artist Orkhan Mamadov presents "Revival of Aesthetics," an A.I. driven immersive experience and NFT exhibition. Featuring the Metaverse's first carpets, rugs, and kilims, the show aims to transcend Eastern heritage into the digital realm. In his work, Mammadov is lending a new meaning to patterns, merging its traditional association with machine algorithms. 
A neural network computes over 150,000 archival images of carpets, rugs, and kilims, found in museums and libraries globally. "Revival of Aesthetics" brings to life new, imagined rugs, broadening the scope of a "living" tradition, combining data painting techniques, thread simulation, and color data. Mammadov begins a dialogue between rapidly vanishing cultural heritage, and the proliferation of digital cultures. NFTs present a solution for preserving cultural memory. Orkhan says, "With the rise of digitalization, we seem to disconnect ourselves from cultural heritage, and the Revival of Aesthetics helps us to travel interdimensionally through our cultural memory." 
Blackdove, as a leading global NFT and digital art installation platform, is producing and presenting "Revival of Aesthetics" at Lume Studios in New York City, curated by Lara Binnet. 
On show only for one day, January 27th, 2022, the immersive experience, "Revival of Aesthetics' ' will consist of 45-minute time slots between 2pm and 10pm, presenting 45 minutes of an A.I. driven immersive experience. Orkhan Mammadov will be releasing 9 unique NFT editions generated from the immersive experience minted on Blackdove's NFT marketplace. Blackdove is the only vertically integrated solution in the market and NFTs have triggered a spectacular growth cycle with more than 200+ installations running live now and 5000+ monthly active users. Blackdove has been a pioneer in the digital art market pre-NFT with a prestigious portfolio of clients such as Christie's Fine Art, Moelis & Co, and Marriott. Blackdove's strategic