Today, Johnnie Walker, the most popular Scotch Whisky brand in the world, steps into Web3 through an elevated partnership with Gary Vaynerchuk's NFT project, VeeFriends. The Johnnie Walker and VeeFriends partnership came to fruition in collaboration with VaynerNFT and is one of many ventures Johnnie Walker's parent company, DIAGEO, is taking to reinforce forward-thinking values of progress and innovation. Through Web3 initiatives, DIAGEO will continue to broaden the way people can enjoy rare spirits offerings and experiences wherever they are in the world.
"This collaboration is an authentic example of how one of the world's biggest brands can step into Web3 to celebrate community and culture while staying core to its values. This is an outstanding example of the power of collaborations that can be brought to life by NFTs by the world's leading brands and creators." –Avery Akkineni, President of VaynerNFT

"Our partnership with VeeFriends is a key opportunity for Johnnie Walker and DIAGEO to reinforce our desire to drive innovation and unique experiences that showcase our luxury portfolio. Web3 offers DIAGEO an opportunity to meet new communities and customers where they are in culture. It also offers an exciting new space to provide spirits enthusiasts with access to the most rare and collectible spirits in our portfolio. Our customers can expect to see more from us on this front as we look to Web 3 to release the most luxurious and sought after spirits we have to offer. Stay tuned." – Sophie Kelly, Senior Vice President of Whiskies at DIAGEO North America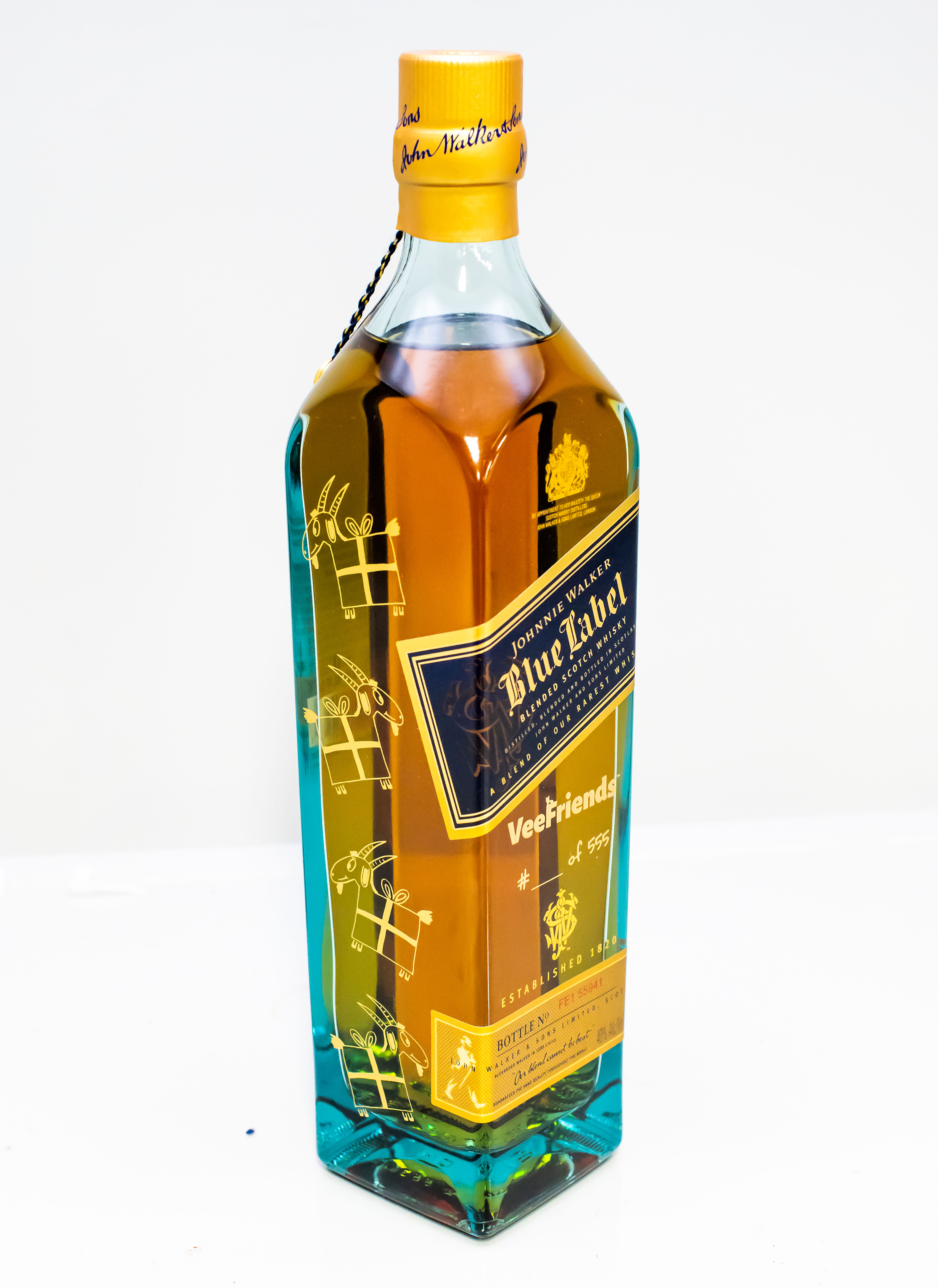 The Johnnie Walker collaboration includes a luxury gifting experience for VeeFriends' Gift Goat' token holders and an activation at VeeCon, the world's first NFT-ticketed conference that brings together emerging leaders in NFTs, Web3, and popular culture. The 555 unique Gift Goat tokens unlock 18 luxury gifting experiences over the course of three years, all of which are curated by Gary Vaynerchuk. Each experience combines a bespoke physical gift with a unique NFT from a notable artist in the space to create a truly unique package.
Johnnie Walker has stood for collective progress since its inception, and through the partnership with VeeFriends, Johnnie Walker is taking its first step to authentically engage Web3 and NFT native communities. Johnnie Walker hopes to further invest in a future where artists are empowered to have control and ownership over their contributions to culture while decentralizing and democratizing their work and enabling access to new revenue streams.
"Anybody that knows me knows that I grew up in the liquor industry. So if somebody told 22-year-old Gary that his NFT/IP project would be collaborating with the iconic Johnnie Walker Blue Bottle, he would've fallen off his chair. This is one of the most monumental days in my journey with VeeFriends, given where I started my career, to see this collaboration come to life with such flawless execution. I'm so excited for the individuals that hold the gift goat NFT and for Johnnie Walker, the brand, to be embarking strategically and thoughtfully into the Web3 space. –Gary Vanerchuk, CEO & Creator of VeeFriends
About VeeFriends
VeeFriends is Gary Vaynerchuk's NFT project built on his aspirations of creating a community around his creative and business pursuits using NFT technology. In May 2021, VeeFriends Series 1 was launched in which Gary imagined, designed, and drew each of the 268 VeeFriends himself for the collection of 10,255 tokens. The tokens embody characteristics and traits that Gary hopes to instill in others. VeeFriends Series 1 tokens provide access to VeeCon 2022, 2023, and 2024. VeeFriends Series 2, a collection of 55,555 tokens, launched in April 2022 and is the next step in the evolution of the VeeFriends. Gary's original hand-drawn characters are reimagined and brought to the next level by creating 3-D characters, new backgrounds, and a fine collection of poses. Visit https://veefriends.com/ and join the discord channel for additional information!
About VeeCon
VeeCon 2022 is the world's first NFT-ticketed conference, a first-of-its-kind, multi-day event held for an audience of 10,255 VeeFriends Series 1 token holders. A real-life demonstration of NFT smart contract technology in action, it is a super "un-conference" jam-packed with value for NFT enthusiasts. The conference is focused around business, marketing, ideas, creativity, entrepreneurship, innovation, and competition.
About VaynerNFT
VaynerNFT is a consultancy exclusively focused on building strategic Web3 and NFT integration for the world's leading intellectual property owners – personalities, athletes, celebrities, artists, brands, and associations. The company empowers its clients to be at the forefront of the NFT revolution. VaynerNFT helps clients achieve long-term value, expands new revenue streams that leverage IP, and creates new value-add for NFT holders. For more information, you can visit: https://vaynernft.co/
Follow us on Social Media